MSNA Industry Membership
Annual Conference Exhibitor Information
Registration for the Annual Conference is open! Visit this page for information about registering as an exhibitor at the annual conference tradeshow on August 8, 2023 at the St. Cloud River's Edge Convention Center.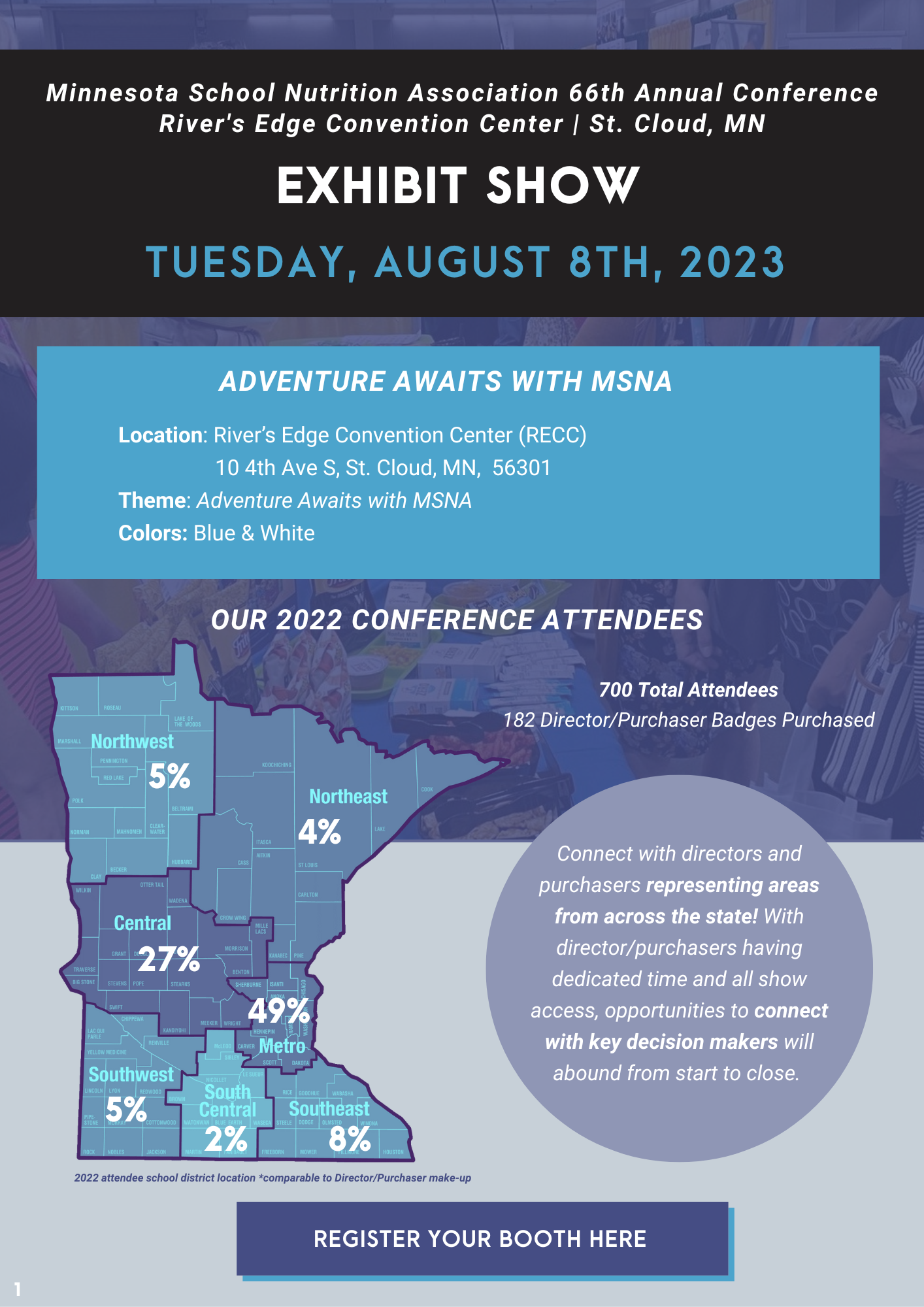 MSNA Industry Membership
MSNA is proud to partner with our industry members. By partnering together we can provide professional development resources to increase nutrition awareness and education, as well as business, culinary, and food safety skills.
The Minnesota School Nutrition Association (MSNA) is the professional association for school food service employees and allied groups. As an Industry Partner, MSNA offers a variety of options to help you reach more customers and you will have access to Directors, Buyers, Supervisors, and future child nutrition department leaders who represent School Food and Nutrition Services in Minnesota.
MSNA offers three levels of membership for industry members:
Industry Member - $450
Premier Member - $1200 
Elite Member - $2300
Want to become a member? Email [email protected] with your company's name, contact name, phone number, email, logo, and desired membership level. 
Already a member and wanting to renew? If you are already an industry member and would like to complete payment on an existing invoice, please log-in to your MSNA account here - your username is your email address. Once logged in, navigate to My Profile, then hover over My Profile and select "Your Organization." Click on the invoices tab to see past and current invoices. If you need any help, please contact MSNA at 320-251-2344 or [email protected].
About Membership
Membership is for one-year and runs January 1 of each year until December 31
For more information about Industry Membership, contact the MSNA Industry Chair, John Jurichko, or MSNA at 320-251-2344 or

[email protected]

. John can be reached at 

[email protected]

.
2022 -2023 MSNA Industry Advisory Board