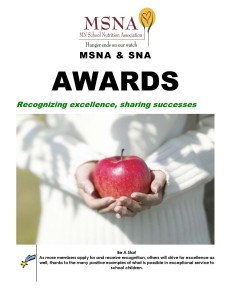 SNA/MSNA recognizes and values members who have contributed to school food service and nutrition programs. We want to bring you awards that you can work towards receiving, or have already qualified for. It is our hope that you will take advantage of the award programs to get the recognition you deserve.
MSNA MSNA Awards Booklet-2019 (pdf)
Resource Guide for all SNA/MSNA Awards. This Booklet contains information on the awards and application process.
Scholarships and grants are available through the School Nutrition Foundation for active SNA members. Click here for more information.
**MSNA has aligned the award due dates to the National Award due dates of March 1, 2021.
All SNA Award nomination forms are to be sent to the SNA offices.
All MSNA awards are to be sent to the MSNA offices.
Any questions contact the MSNA office at 877-251-2344 or 

[email protected]
Minnesota Awards
Due March 1, 2021
Send to: MSNA Executive Director
21997 County Road 141
Kimball MN 55353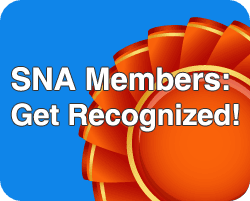 SNA Awards
Due March 1, 2021
Submit your nomination online :
  www.schoolnutrition.org/SNAawards
If you have any questions regarding awards process, please contact Members Service Chair, Loriann Landowski, [email protected]