The SNA awards program is a great opportunity to highlight the outstanding and important work of SNA members and state affiliates! Members and state associations are eligible for many awards and honors that recognize their achievements in school foodservice, leadership, membership recruitment and professional development.
 Effective September 2021, the School Nutrition Association has made some major changes to the SNA Awards Program so all members can be recognized for their hard work to ensure well-nourished students across the country are prepared for success. Nominations must have been submitted online by Tuesday, March 1, 2022.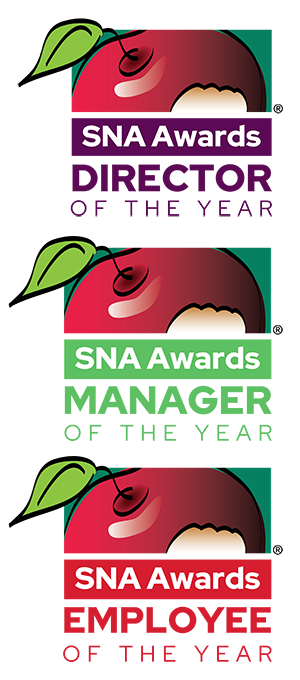 There are SNA awards to recognize every member type:
 Employee of the Year Award
Manager of the Year Award, in honor of Louise Sublette
Director of the Year Award
National Industry Member of the Year Award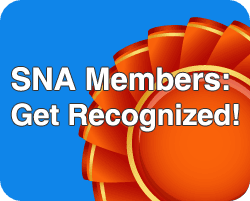 What's Changing?
When you nominate for an award, there will be many new changes we hope you'll enjoy! You will notice that the applications are now all digital and are supported through the awards platform, Submittable. This new platform will now give you as a nominator the:

1. Ability to nominate an individual without completing the entire application
2. Ability to collaborate with your nominee(s) on the application (optional);
3. A streamlined application form(s); and the timeline of activities for nominees and state affiliates.

 We have also made some changes to make the awards more inclusive and accessible, so with that we are excited to announce we:

1. Allow self-nominations.
2. Will use an ad-hoc committee of volunteers for regional judging.
3. Removed certificate requirement for the Employee of the Year (EOY) and Manager of the Year (MOY) Awards and will use points in the scoring rubric to give the nominee credit for having the certificate.
4. Removed requirements for a certificate or credential and service on state or national committee or board for the Director of the Year (DOY) Award and use points in the scoring rubric to give the nominee credit for having these qualifications.
5. Shortened the membership requirement to three (3) years for the DOY Award.
If you have any questions regarding awards process, please contact Members Service Chair, Loriann Landowski, [email protected]