MSNA Annual Confe

rence Exhibitor Information
---
 2024 Annual Conference
The 2024 MSNA Annual Conference Exhibit Show will be held on Tuesday, August 6, 2024 at the River's Edge Convention Center in St. Cloud, MN. Exhibitor registration will open in spring 2024. Please reach out to MSNA at 320-251-2344 or [email protected] with any questions.  
Why Exhibit?
The exposure MSNA offers at the annual food show, and other events such as the SNIP conference, is invaluable. There are few states that provide consistent high volume participation at the annual show, including a high population of large school districts. If you become a member, you will save money on your annual booth and reap other invaluable benefits! Check out the prospectus for more information.
---
PAST EVENTS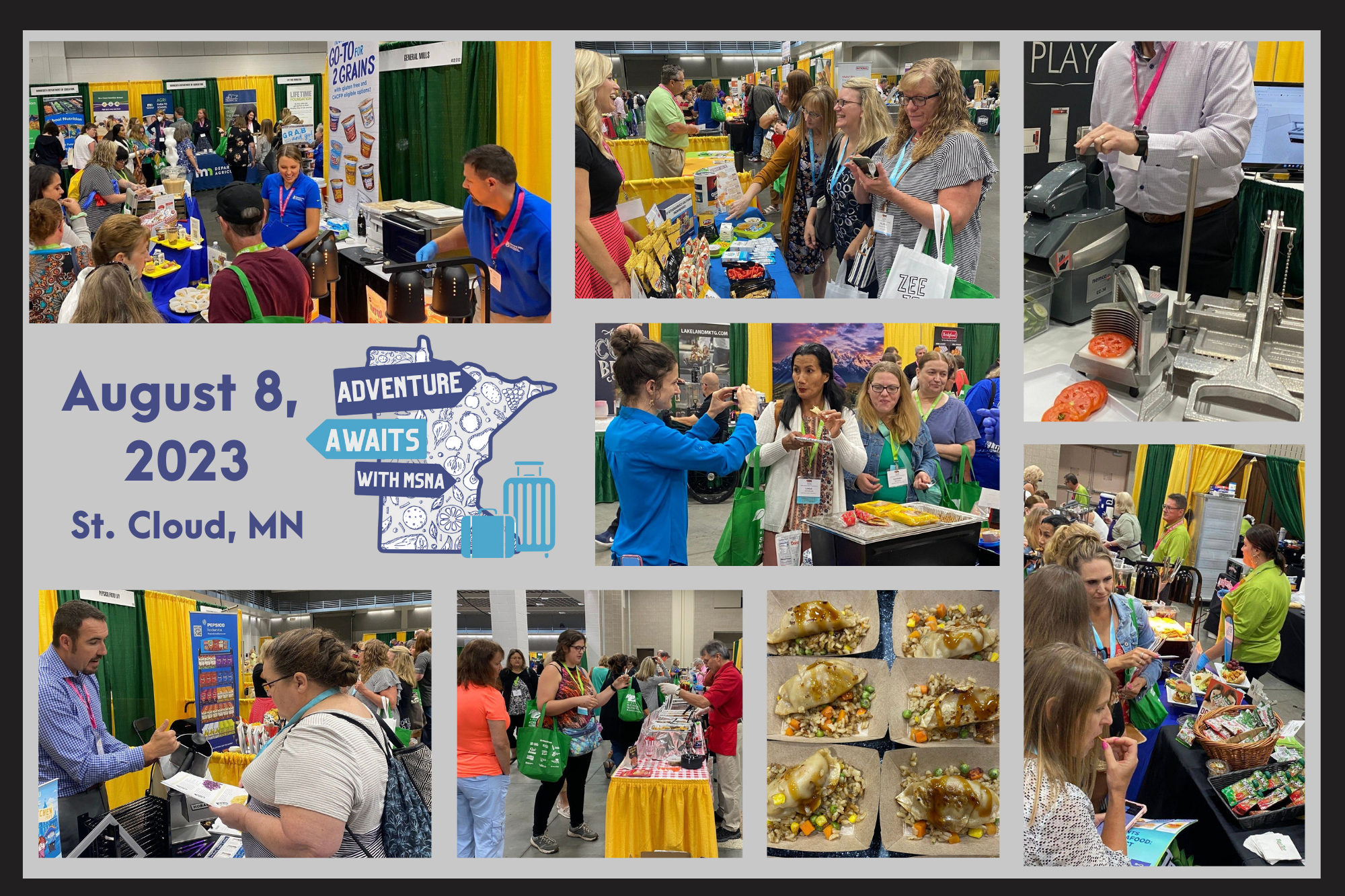 *Photos taken from the 2022 exhibit show
Adventure Awaits with MSNA
August 8, 2023 | River's Edge Convention Center | St. Cloud, MN
---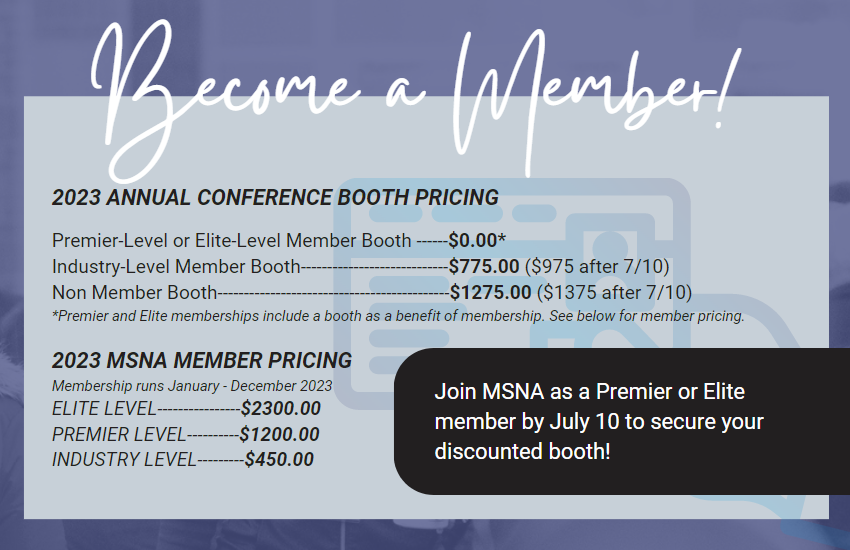 ---
Show Information (2023)
Tuesday, August 8, 2023
Theme: Adventure Awaits with MSNA
River's Edge Convention Center
Terry Haws Exhibit Halls B & C
10 4th Ave S, 
St. Cloud MN 56301
 

Exhibitor Set Up Hours

Monday, August 7, 2:00-6:00pm
Refrigerated/Freezer Truck will be available at 2:00pm
NO early arrivals to set up. This will be strictly enforced
Tuesday, August 8, 7:00-8:30am

 

Exhibit Hall Hours | Tuesday, August 8

9:15am-3:00pm Show Hours
9:15-11:30am (Director's/Purchasers only*)
11:45-1:15pm (Group A)
1:30-3:00pm (Group B)

*Attendees with the directors/purchasers badge are allowed in for the entire show hours

DEADLINES

July 10, 2023: Early Bird Registration ends
July 10, 2023: Deadline for company information to be placed in printed conference program
July 28, 2023: Deadline for booth registrations

BOOTH INFORMATION & PLACEMENTS

All booths are 8' x 10'
Each Booth includes: Hanging identification sign, Pipe/drape, 8' skirted table, Two chairs, Access to refrigerated truck & ice service, Option to purchase additional adjacent booths, Option to provide kitchen-service in your booth (see decorating form below)
The Exhibits Committee will handle booth placements mid-July Placements will be emailed to exhibitors. If any forms require a booth #, please write "TBD."
Booth Staff
Booth staff do not receive passes to the entire 3-day conference. Booth staff are only allowed in the exhibit hall. If booth staff would like to attend conference sessions, they will need to register as attendees here.
Serving Food?
---