64th Annual State Conference

*Canceled*


August 2-5, 2020
River's Edge Convention Center
St. Cloud, MN 56301
The Minnesota School Nutrition Association (MSNA) regretfully announces the cancellation of the August 2020 Annual State Conference in St. Cloud due to ongoing public safety concerns of the COVID-19 pandemic. After thorough review of public health recommendations and assessing potential impacts for conference attendees, MSNA Executive Board and Conference Committee made the difficult decision, which closely follows the cancellation announcement of SNA's Annual National Conference planned for July.
The safety of MSNA members, attendees, exhibitors, participants and staff remains the highest priority. MSNA has been engaged in ongoing discussions with the St. Cloud Visitors Bureau and River's Edge Convention Center concerning the effects of the current global pandemic. Cancellation was determined to be the most appropriate course of action. Plans are already in place to secure 2020 keynote speakers and special guests to present at next year's Annual State Conference. 
MSNA will work with Industry Members regarding pre-registration in the Annual Food Show, originally scheduled for August 4. In the coming weeks, plans for MSNA future events and training sessions will be shared with members to ensure continuing education and network opportunities.
"We appreciate everyone's understanding of the difficult decision to cancel this year's conference, and we remain committed to providing our district members and industry partners with valuable professional development resources," said MSNA President Vickie Speltz. "We anticipate school foodservice operations will evolve as schools re-open and we return to offering healthy and nutritious school meal service on site. MSNA will continue to provide best practices, training and networking opportunities to support school meal programs."
As heroes on the frontlines providing meals to students in need, many school nutrition professionals across Minnesota are currently planning, preparing and serving meals through emergency feeding programs.
"This is a difficult time for many school meal programs facing budget deficits while managing a variety of the practical challenges of emergency feeding. Our association feels strongly that we will come through this stronger together and feel a renewed purpose after keeping Minnesota's children healthy and fed during this unprecedented difficult time," said President Speltz.
**Canceled**
Monday, August 3rd
Opening General Speaker
Holly Hoffman was the last remaining member of the Espada Tribe and the last woman standing on Season 21 of CBS' hit reality show "Survivor Nicaragua". Through that experience, and others throughout her life, Holly was inspired to share her message of survival.
A professional motivational speaker and the author of Your Winner Within and Write Yourself a Note, Holly acknowledges that life is made up of challenges, and we are oftentimes faced with situations that seem insurmountable. But within each of us is an ability to focus our thoughts, emotions, and energy to succeed - if only we have the knowledge, tools and discipline to do so.
A native of South Dakota, Holly's writing and speaking not only offer encouragement and optimism but a roadmap for self-discovery and spiritual enlightenment. Readers and audience members alike walk away inspired to light the fire of successful living within themselves. 
---
Sean Sherman - The Sioux Chef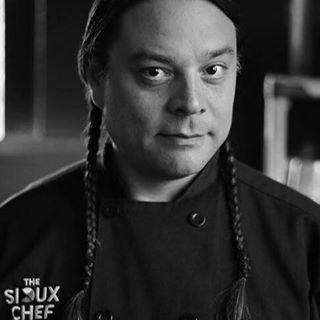 Sean Sherman, Oglala Lakota, born in Pine Ridge, SD, has been cooking across the US for the last 30 years. His main culinary focus has been on the revitalization and awareness of indigenous foods systems in a modern culinary context. Sean has studied the foundations of these food systems in the Native culture and history to gain a full understanding of bringing back a sense of Native American cuisine to today's world. The Sioux Chef team works to make indigenous foods more accessible to as many communities as possible.
Sean has been the recipient of a 2015 First Peoples Fund Fellowship, 2018 Bush Foundation Fellowship, National Center's 2018 First American Entrepreneurship Award, 2018 James Beard Award for Best American Cookbook, and a 2019 James Beard Leadership Award.
---
Wednesday, August 5th
Closing General Speaker
Chris Heeter was selected as a Top Ten Speaker of 2014 by MeetingsNet, and was the highest rated speaker of Meeting Professional International's 2014 World Education Congress. She is out to create a Wild revolution in the workplace. A wilderness guide since 1984 and professional speaker since 2001, Chris has led and worked with a diverse array of teams, both canine and human!
Featured on The Discovery Channel's "National Geographic Today," she brings decades of leadership experience indoors, to conferences and offices, working with teams and leaders, helping us recognize that leadership and teamwork doesn't have to be so complicated. With remarkable parallels to the work world, Chris shares hilarious stories from her sled dog team with their quirky personalities and from guiding whitewater trips, where successfully navigating obstacles (mostly) is part of the journey.
Chris challenges and inspires organizations and individuals toward Wild leadership, compassionate presence, and daring authenticity.